John's been with Music Box Licensing from the beginning. Whether we're working on a small or big project, he's always ready to put 110% into a project. Heck, he'll take a project the same day and stay up until 3am working for a client. Yep that happens. He's just that kind of guy. Hard-working, dependable, extremely talented and did I mention he has a great beard? Majestic some might say.  Here's a glimpse into the craft and practice of one of the founding artists of Music Box Licensing – John Lindsey. An amazing musician, dependable collaborator and all-around great guy. We're super lucky to have him. 
Who are big musical influences? 
I've had so many throughout my life but for my top 3 I'd have to say John Williams for his awe inspiring orchestral work, Yngwie Malmsteen for making me push my guitar abilities, and Explosions in the Sky for ushering in a new way of approaching film music and influencing my own musical desires.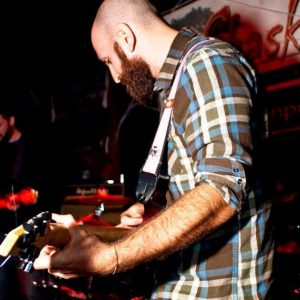 How long have you been recording as a solo composer? Looking back, what steered you in this musical/creative direction?
Let's see… I have been writing music for many, many years, but actually didn't start recording my own solo compositions until fairly recently. I received a copy of Miroslav Philharmonic sometime in the spring of 2013 and realized how much potential I now had to write music in a style I had always wanted to (orchestral). Once I started with that software everything snowballed really quickly into me scoring my first feature film only several months later. That then opened a whole new world to me full of amazing opportunities. The direction I have been going in is exactly what I have been hoping for ever since I was a senior in high school. The only college I had applied to was Berklee College of Music which I wanted to get into strictly for their film scoring courses. I didn't' end up getting accepted but the passion always remained with me, and, thanks to the vast resources of the internet and technology, I'm finally getting to do what I've always wanted to musically.
[bandcamp track=965392727 bgcol=FFFFFF linkcol=4285BB size=grande]
Do you gravitate towards a particular instrument as a starting point? What are some of the "go to" instruments/sounds that you gravitate towards?
My primary instrument is electric guitar and I always utilize it first when writing songs with my band. However, when writing for film or other personal projects, I almost always start off with piano. I feel like I can be more creative quicker on piano then with guitar especially when approaching a film project with the visual in front of me. I have come to believe that nothing on the earth sounds more beautiful than a Steinway grand piano. Other sounds I gravitate towards are pads and synthetic soundscapes even if I don't end up using them in the final production.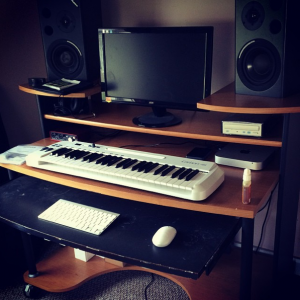 Describe your work on Violet and Jake Lerchen's film. What was that like collaborating with Mark Wardale on the score?
First off, Mark is a real peach. I was stoked to collaborate with him on Jake Lerchen's film "Leaving Amy". I had never done a collaboration with anyone before so I didn't know what to expect but Mark was super easy to work with. We used a website called frame.io to post things that we were working on and give feedback to each other. We listened to each other's ideas and wrote accordingly so that our cues would fit well together. I ended up writing the first two minutes or so with him doing the heavier lifting of about 5 minutes. I think that Mark and I are pretty similar in how we "hear" a scene when we see it. The feel of the music he had written was very similar to how I would have approached the same scene. We were very in sync with each other and I hope to work with him again in the near future.