I've been to a lot of film festivals but PubX is up there as one of the coolest in my book. Not only did it have an amazing selection of films that I wouldn't have come across otherwise, but it presented a new kind of film festival to me – A DIY Pop-up Film Festival. I got a chance to chat with the festival's organizer, Otis Wheeler to talk about how PubX came about and how others can organize their own pop-up film festivals in their own communities. 
What is PubX fest?
PubX is a randomly recurring pop-up film festival and cinematheque dedicated to showing the best undistributed or under-seen micro-budget features from around the country.
What inspired you to organize pubx fest?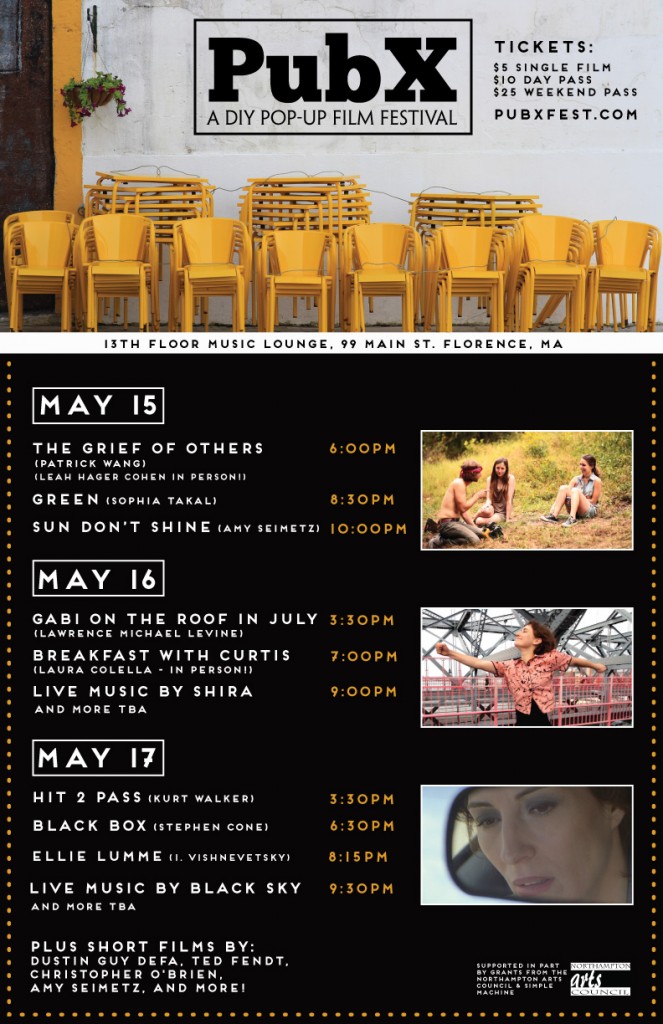 Regional theatrical distribution is a bummer. In any given year, only about half the films on my year-end best-of list will play theaters outside of New York and Boston. This is a problem because watching movies is a fundamentally social, communal activity, and pictures deserve to be seen on the big screen. PubX is an opportunity for me to provide exposure to films that need it the most, and to do something that matters: watch movies with other people.
What advice would you give to folks interested in organizing a pop up film fest in their communities?
Follow micro-budget cinema through sites like NoBudge and Simple Machine, apply for grants through Simple Machine and local arts councils, and don't be afraid to make the fest as small as the films it contains. Tiny is beautiful. And remember what Ted Berrigan said: if you aren't doing it now, you won't ever do it.
Favorite films from the fest?
Favorite experiences: screening Girl Walk // All Day at a barcade. Holding an impromptu 90 minute discussion with the costume designer of The Grief of Others while dealing with a problem with projection. Watching Black Box in, basically, a black box. Closing with Person to Person, a short film about a record store owner, and going right into sets by Dead Shadow and Black Sky. Watching one of my favorite films, Breakfast with Curtis, with some of my favorite friends, family and strangers, and participating in a discussion with the director after the film. 
Would you do anything different next time?
I'll do everything differently. The nature of a pop-up is to be irregular.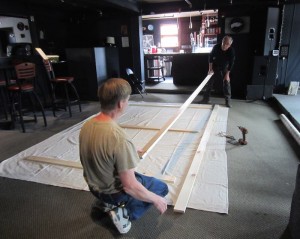 If money were no issue, what would pubx fest look like?
PubX would look about the same, since the scale of the fest and its venue were chosen to match the size of the films themselves. If money were no object, I'd build an outdoor amphitheater on a mountain or transform a mill into a destination setting that would encourage people to watch movies the way they're meant to be watched: with a mixture of joy, wonder, and awe that simple loveliness exists.
What was your process for getting entries and choosing which films to screen?
Rather than send out a call for entries, I noticed that micro-budget American cinema was having a moment, and I curated the selection myself. I'm a contributing editor of The Vulgar Cinema, a contributor to MUBI, and a pretty obsessed cinephile. I watched about fifty films as part of the selection process. 
Gabi on the Rooftop in July – one of PubX's selections

One of the unique things about PubX fest was the co-scheduling of music and films. Why did you choose to do this?
Since PubX was hosted by the 13th Floor Music Lounge this year, it seemed like a no-brainer to book some of my favorite local bands to play after the films. As Spotify and Netflix erode music and cinema's functions as fundamentally social activities, I think it's important to get out of the house and support concerts and movies in person as much as possible ("person to person," as it were).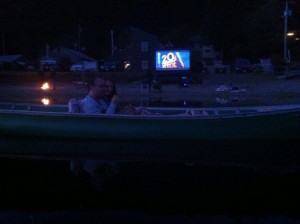 Plans for next PubX fest?
I have some ideas percolating but it's really dependent on the cinema landscape. Many of the directors whose work was shown at PubX are moving on to bigger budgets or having less trouble finding distribution this time around, which is great but it might mean that we have to take a year off. We'll see. I also organize semi-secret pop-up screenings from time to time; I showed Point Break on a lake over the summer, and come spring, I want to screen a movie about trains on the side of a trolley car.